Arroz con Pollo is a classic Latin American dish that translates to "rice with chicken." It typically consists of chicken and rice, which are cooked together and flavored with ingredients such as onions, garlic, tomatoes, and spices like cumin, oregano, and saffron or sazón. Various vegetables like bell peppers, peas, and carrots can also be added to create a colorful and flavorful meal. Arroz con Pollo is a comfort food enjoyed in many countries, including Spain, Cuba, Mexico, and Peru.
The origins of arroz con pollo are not entirely clear, as many countries have a variation of this dish. However, some sources suggest that it originated in Spain during the Moorish rule in the Iberian Peninsula. Arroz con pollo was considered a one-pot meal, and its recipe traveled to the Spanish colonies in Latin America and the Caribbean, where it was adapted and influenced by local ingredients and cooking techniques.
In Puerto Rico, arroz con pollo has been a popular dish for centuries and is considered a traditional comfort food. It was often served during celebrations, such as weddings and Christmas, and as a hospitality dish to guests.
In Cuba, arroz con pollo is a national and beloved dish, and it is sometimes referred to as "Cuban paella." The dish migrated from Spain along with other popular Spanish dishes, and it has also been influenced by African, Chinese, and Caribbean cuisine.
In the Dominican Republic, where the dish is known as "Locrio de Pollo," it is often served on Sundays and other special occasions.
Regardless of its origins, arroz con pollo has become a staple in Latin American cuisine and is enjoyed by many people in different countries.
Here I'll share 3 different ways to make "Arroz con Pollo"... the traditional, the plant based, and the low carb… 
RECIPES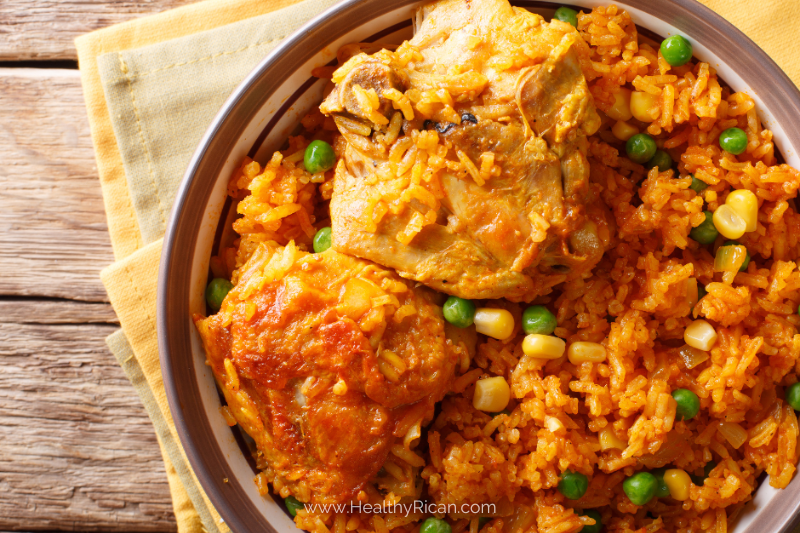 Arroz con Pollo
Ingredients:
2 cups of white rice

4 chicken thighs, skin removed

2 tbsp. of olive oil

1 onion, chopped

1 green bell pepper, chopped

1 red bell pepper, chopped

3 garlic cloves, minced

¼ bunch cilantro, chopped

1 can of tomato sauce (8 oz.)

2 tsp. Healthy Rican Adobo OR Savory Spice Mix for extra flavor

2 tsp. Healthy Rican Sazón

3 cups of chicken broth

½ cup of peas and carrots

½ cup of pitted green olives (optional)

2 bay leaves (optional)
Directions:
Rinse the rice thoroughly in cold water and drain. Set it aside.

Season the chicken thighs with adobo (or savory spice mix).

In a large saucepan, heat the olive oil over medium heat. Add the chicken thighs and cook for about 6-8 minutes, until browned on both sides. Remove the chicken from the pan and set aside.

Add the onion, garlic, green bell pepper, and red bell pepper to the pan. Add ½ of the chopped cilantro, and reserve the rest to add at the end and garnish. Cook for 3 to 5 minutes, stirring occasionally, until the vegetables are soft.

Add tomato sauce and sazón. Stir to combine and let it cook for about 2-3 minutes.

Add the rice to the pan and stir to coat. Cook the rice for about 2-3 minutes until it begins to turn opaque.

Add the chicken broth, bay leaves, and chicken thighs. Stir to combine and bring the mixture to a boil over high heat. Reduce the heat to low, cover the pan, and simmer for about 20-25 minutes, or until the rice is tender and the chicken is cooked through.

Add the peas, carrots, remaining cilantro, and green olives if desired, to the pan and stir to combine. Cover and cook for an additional 5 to 10 minutes or until the peas are cooked through.

Remove bay leaves from the pan and serve the Puerto Rican rice with chicken hot.
Enjoy with a small side of beans (habichuelas guisadas), side salad, and a slice of avocado for a healthy delicious balanced meal.
Plant Based Arroz con Pollo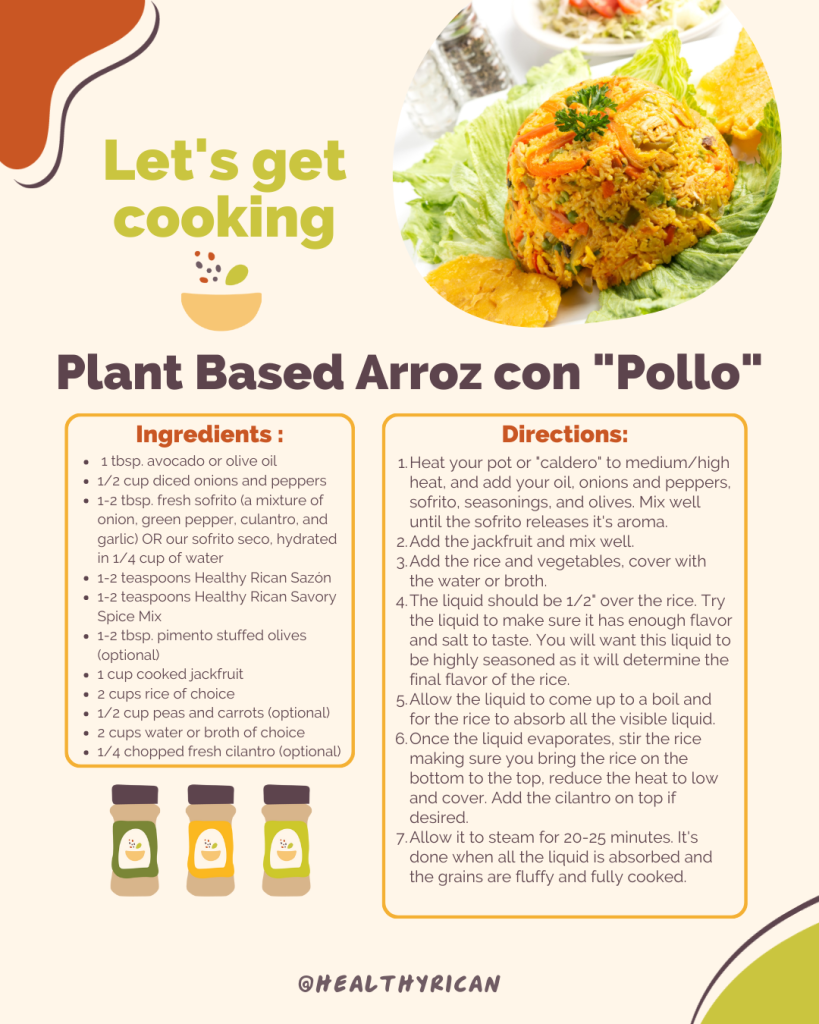 Ingredients:
1 tbsp. avocado or olive oil

½ cup diced onions and peppers

1-2 tbsp. fresh sofrito (a mixture of onion, green pepper, culantro, and garlic) OR our sofrito seco, hydrated in 1/4 cup of water 

1-2 teaspoons Healthy Rican Sazón 

1-2 teaspoons Healthy Rican Savory Spice Mix

1-2 tbsp. pimento stuffed olives (optional)

1 cup cooked jackfruit

2 cups rice of choice

½ cup peas and carrots (optional)

2 cups water or broth of choice

¼ chopped fresh cilantro (optional)
Directions:
Heat your pot or "caldero" to medium/high heat, and add your oil, onions and peppers, sofrito, seasonings, and olives. Mix well until the sofrito releases its aroma.

Add the jackfruit and mix well. 

Add the rice and vegetables, cover with the water or broth.

The liquid should be 1/2" over the rice. Try the liquid to make sure it has enough flavor and salt to taste. You will want this liquid to be highly seasoned as it will determine the final flavor of the rice.

Allow the liquid to come up to a boil and for the rice to absorb all the visible liquid. 

Once the liquid evaporates, stir the rice making sure you bring the rice on the bottom to the top, reduce the heat to low and cover. Add the cilantro on top if desired.

Allow it to steam for 20-25 minutes. It's done when all the liquid is absorbed and the grains are fluffy and fully cooked.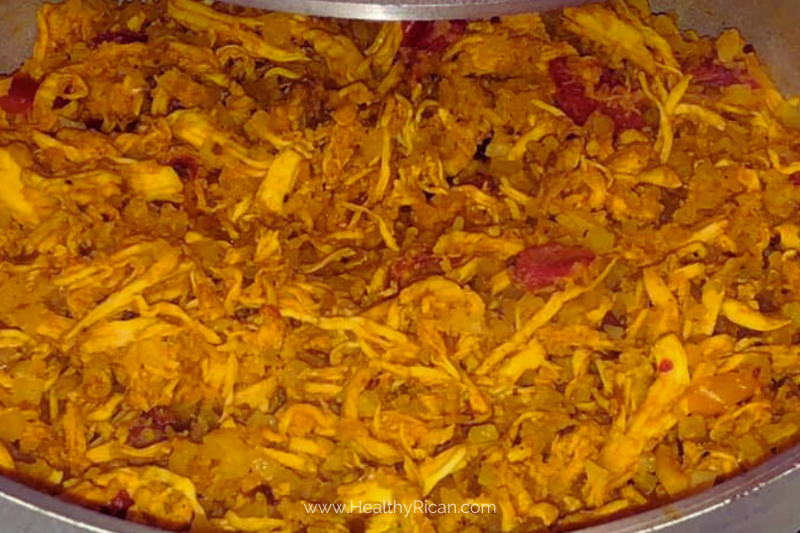 Cauliflower Arroz con Pollo
Ingredients:
1 lb cooked pulled chicken

1-2 tbsp avocado oil

1-2 tbsp sofrito

1-2 tbsp Healthy Rican Sazón

1-2 tbsp Healthy Rican Adobo

½ cup diced red peppers and onions.

2 tbsp tomato sauce

2 lbs cauliflower rice

1 tbsp Spanish olives (optional)

Salt and pepper to taste
Directions:
For the chicken, boil 2-3 chicken breasts for approximately 10 minutes or until pink is gone. Let cool and pull the chicken in treads using 2 forks.

In a separate pot, add healthy fat and sofrito on high temperature until the sofrito sizzles and releases the aroma.

Quickly mix together the sazón, adobo, and tomato sauce. At this moment you can also add any olives, onions, peppers, or any extra ingredients you'd like to add.

Add the chicken, mix well with all the ingredients until the chicken absorbs the color and flavor.

Add the cauliflower, salt and pepper to taste, and mix well.

Lower temperature and cover.Do not add water. The cauliflower will release juices as it cooks.

Cook on low for approximately 10-15 minutes, mixing in between to make sure it doesn't stick to the bottom.
NOTE: Make sure the flavor is to your liking. Everyone makes Puerto Rican foods in different ways. My rule of thumb is, if you are familiar with Puerto Rican food, start the recipe as you normally would at the beginning. When it comes time to add the rice and water, you'd add the cauliflower rice instead, minus the water. The cauliflower will release juices as it cooks and there is no need for extra water.
Enjoy!!