(for all your salads and cooking needs…)
We are almost 2 months into the new year! Wow how time flies when you're having fun. At the beginning of every year, many of us seek to incorporate Healthy Living either as a resolution, or just to get back on track after the Holidays. Whatever the case is, many (like me) resort to including more vegetables and salads with our meals. With Spring almost on the horizon, it's a great opportunity to start incorporating more fresh produce.
Many say salads are "boring", however I think the main reason most people don't like salads is because their first thought is "plain" or "tasteless". But it doesn't have to be that way! Salads can be easy, fun, delicious, and a great way to add more veggies to any meal. It's a win-win and the key is in the dressing.
Finding a great tasting salad dressing at the grocery store, that is not full of sodium and preservatives, is almost impossible. Unfortunately most store bought dressings are full of unhealthy fats, artificial colors and ingredients, not to mention packed with sodium. Plus, the few dressings that are available, many times are not accessible to everyone. Don't get me wrong, I love splurging on healthy foods and ingredients, but sometimes the budgets change, or we simply get bored of the same ole dressing everyday. Whatever the reason, if you are like me, you like variety and to experiment with different flavors and foods. That is why I started experimenting and creating my own.
Two of my favorite dressings are Italian dressing and Honey Mustard. While experimenting in the kitchen, I could never get either just right. Until I figured out a way to do both. This is now my absolute favorite, and beats all store bought dressings (in my opinion). Try it for yourself and let me know. Here's a few recipes to get you started, plus a bonus Texas Roadhouse Italian dressing (a healthy copycat). 
FAQs
Are salad dressings versatile to use?
The good thing about dressings is that they are so easy and versatile to use. You can toss a salad with it to make it tasty and delicious. You can marinate meats, add to pasta, dip vegetables, and so much more.
How to use salad dressing for cooking?
To use salad dressing for cooking, just add to your favorite meat before cooking, or add to pasta and create a delicious pasta salad.
Here's how to make my new favorite creation for salads, meats, and more. It's like Italian and honey mustard dressings had a baby. 
Ingredients:
(Servings 2)
2 tsp apple cider vinegar   

3 tsp extra virgin olive oil  

2 tsp raw honey (or date sweetener for Whole30 approved)   

2 tsp mustard   

1 tsp

Healthy Rican Sofrito

 

1 tsp lemon juice   

Pinch of salt & pepper   
Directions:
Mix it all together and enjoy!   
Note: Depending on the sweetener, will be the thickness. If you'd like a more liquid consistency, you can add additional olive oil and vinegar to taste. 
Simple Healthy Rican Dressing   
Ingredients:
(Servings 2)
¼ cup Healthy Rican Sofrito

½ cup water

1 lemon (juiced)

½ cup extra virgin olive oil

salt & pepper to taste

¼ cup vinegar of choice
Directions:
In a small bowl, add the sofrito and water, mix well and allow to sit for 10 minutes (until the sofrito absorbs all the water). After a few minutes, add the lemon juice, olive oil and salt and pepper to taste. Enjoy this mix as a pesto, bread or plantain dip, or as a marinade for meat, seafood or roasted vegetables.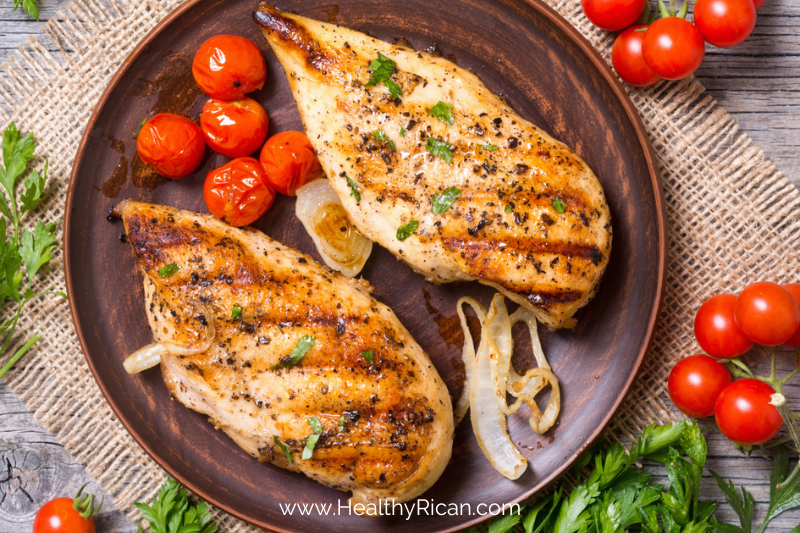 Healthy Rican Dressing - Grilled Chicken
This grilled chicken is so quick and easy, but also delicious. You can pair this up with a salad, and/or pasta salad in the next recipe. It's a great healthy dinner or to use for meal prepping and chicken salads. 
Ingredients:
(Servings 2-4)
4 boneless chicken breasts

½ cup Healthy Rican dressing

2 teaspoons

adobo

 
Directions:
In a large bowl, add the chicken with the dressing and adobo. Mix well and allow to marinate overnight in the fridge, or a few hours before cooking. 

Grill or pan fry the chicken breast on medium to high heat for 6-8 minutes on one side. 

Flip and cook for 6-8 minutes more on the other side. 

The cooking time will vary depending on the size of your chicken breast. Be sure to check the internal temperature in the thickest part of the chicken breast using a meat thermometer. When the internal temperature reaches 165 degrees F, the chicken is done.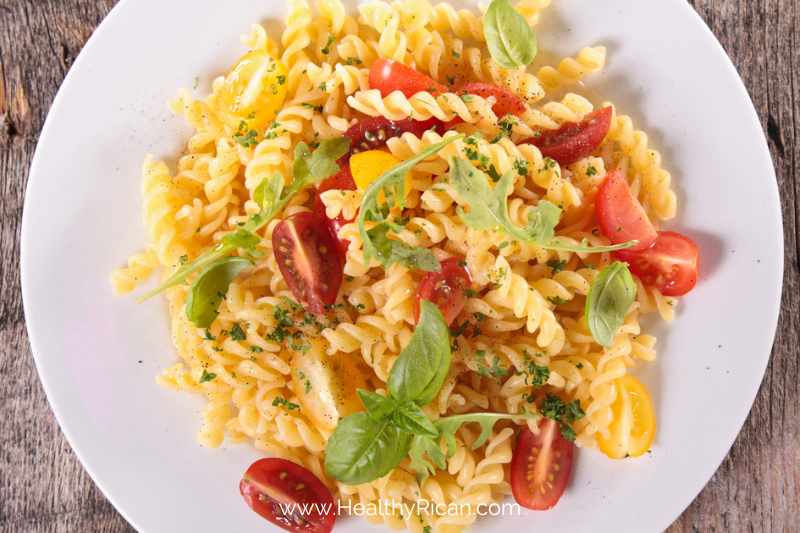 Delicious Pasta Salad 
Ingredients:
(Servings 6-8)
1 lb pasta of choice (can be gluten-free, chickpea or lentil pasta for a high-protein alternative)

1 can (or 2 cups) cooked chickpeas

1 peeled and chopped cucumber (in cubes)

1 chopped tomatoes (in cubes)

½ cup chopped red bell pepper (in cubes)

½ cup chopped red onion

¼ cup chopped fresh cilantro

½ cup Healthy Rican dressing
Directions:
Using the directions on the box, cook the pasta until al dente. Allow the pasta to cool, or using a colander, cool down under running cold water. 

In a large bowl, add the drained and cooled down pasta, chickpeas, cucumber, tomatoes, bell pepper, onion, cilantro, and dressing. 

Mix well and enjoy! 

Leftovers can be stored in the fridge and enjoyed the next day.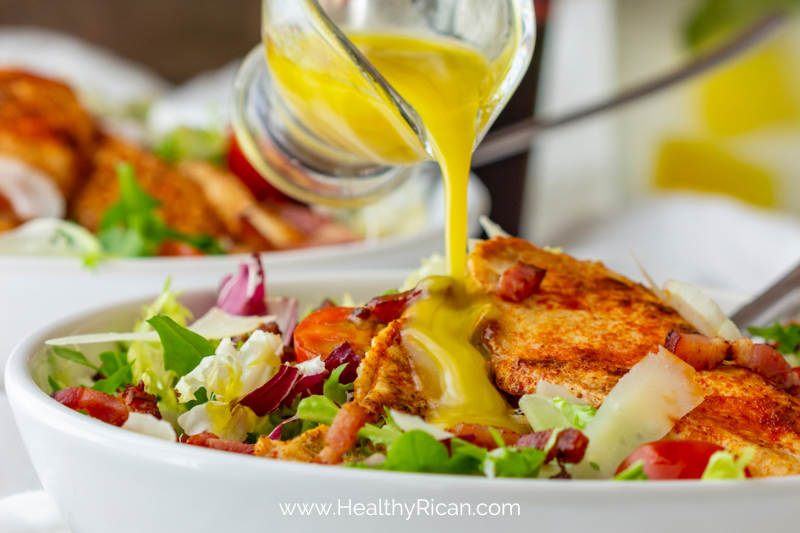 Texas RoadHouse Italian Dressing (a healthy copycat)
Ingredients:
¾ cup apple cider vinegar 

¼ cup granulated turbinado sugar (can be replaced with monk fruit for a no sugar, low-glycemic dressing)

½ teaspoon sea salt

1 teaspoon granulated garlic 

1 teaspoon black pepper 

1 teaspoon white pepper (if not available, just use additional black pepper)

1 ½ teaspoon onion powder 

½ tablespoon dry basil 

½  tablespoon dry oregano 

½ tablespoon fresh minced garlic 

⅓ cup raw honey 

¼ cup mustard 

1 ½ cups avocado or olive oil (avocado oil is my preference as it has less flavor than avocado oil, which enhances the rest of the flavors)
Directions:
Place the ingredients from step 1 into a bowl and mix thoroughly.

Whisk ingredients from step 2 into the mix.

Add ingredients from step 3 and incorporate thoroughly.

Very slowly add the oil and whisk until there is no separation.
Written with Love & Appreciation,
Mayra, Founder @HealthyRican 
Thanks for reading our blog!
Please let us know what you think of our articles and recipes in the comments below. We love hearing from you. 
Get in on exclusives and stay up to date! We send our best content on our monthly newsletters. Please join our mailing list here: https://sendfox.com/healthyrican
Want to find out more about our Healthy Rican Spice Brand?
Visit our online store! You will find out more about our healthy blends of Latin Adobo and Sazón made with all-natural ingredients. Plus, our innovative dehydrated sofrito and NEW Savory Spice Mix. Our NO-JUNK seasonings are made with pure flavor "Puro Sabor" and are free of MSG, GMOs, artificial ingredients, and artificial colors. 
Find out more at our online shop here: https://healthyrican.com/online-shop/ 
Questions? Click here to contact us.