Let me transport you to a Christmas on the Island… Imagine this, beautiful blue skies, cool air and the aroma of roasted pork coming in through the windows. Palm trees are swaying, the music is playing, as everyone gets ready for the celebrations. Nothing beats Christmas aka Navidad in Puerto Rico. 
In Puerto Rico, Navidad isn't just one day, it's an extended month of celebrations. The multiple family gatherings, the live music, the "parrandas", the specialty drinks, and the ungodly amount of food… Christmas in Puerto Rico can't be beat. Living in the states for the past decade, "Las Navidades" is one of the things I miss the most from la isla. 
What is Navidad?
 The literal definition of Navidad is Christmas. I'm sure you've heard the popular song "Feliz Navidad" by Jose Feliciano, a fellow Puerto Rican. 
What is the meaning of Navidad? 
In the Western Church, Christians celebrate Christmas Day as the anniversary of the birth of Jesus of Nazareth, a spiritual leader whose teachings form the basis of their religion. For me and many others, Christmas is a celebration. From this article I found online; Christmas is a time for giving and not simply a day we exchange gifts. The spirit of Christmas is in the 'togetherness', it's in the thought to which you put into thinking about others, it's a selfless time, where we forgive, take stock of what's important and become 'better' versions of ourselves. 
What does "Las Navidades" mean?
It's a time where people gather together to celebrate life, to give thanks, and spend time with loved ones. Traditions are upheld and passed down from generation to generation. These traditions that were created in Puerto Rico are a part of our culture. They don't need to remain on the Island. We can incorporate them into the Holiday season wherever we are, no matter the city and/or country. It's our heritage. It's our identity. It's how we show love. Food and music is always front and center in every Puerto Rican celebration. They go hand in hand. 
When is Christmas celebrated in Puerto Rico?
In Puerto Rico and many Latin Countries Christmas is celebrated on December 24. This is Christmas Eve and we call it "Noche Buena". Typically this day, family and friends gather to celebrate. Many have a nice family dinner, while others enjoy house and block parties, larger gathering venues and more. It is definitely a time to party, "donde no puede faltar el coquito!" (where we can't miss the Puerto Rican coconut eggnog). This celebration continues until the next day where most families have an intimate gathering, and gifts are opened. December 25th is a relaxed version of "Noche Buena", however many choose to continue the party with "parrandas". 
How long do celebrations last? 
In Puerto Rico, the earlier the better! Some start after Thanksgiving, in some countries the festivities begin mid-December, while others wait till December 24 "Noche Buena". The celebrations can last until the holiday the Epiphany on January 6 which commemorates the day the 3 wise men finally arrived to see baby Jesus aka "El Dia de los Reyes Magos". In Puerto Rico, la fiesta no se acaba ahí, that is not where the celebrations end. Puerto Ricans have created their own extended celebrations called "Las Octavitas". This is where people continue to do "parrandas" until 8 days after January 6. 
What is a parranda? 
A parranda is a Puerto Rican music tradition that takes place during the Christmas season aka La Navidades. It's a huge part of the celebration along with the food and drinks. Think of it as a Puerto Rican version of "Christmas Caroling". It starts in the evening and goes through the night. It's a way to bring the community together with song and dance. It begins in one house and as they go from house to house the crowd gets larger because more people continue to join in. Any instrument can be played but there are a few that are Parranda Must Haves. Like El Guiro, Maracas, Tambourine, Guitar, El Cuatro, El Clave. 
Watch this Puerto Rican Parranda Video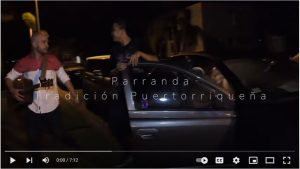 What is celebrated during 3 Kings Day aka "El Dia de los Reyes Magos"? 
Children put grass inside a shoe box and place it underneath their bed. Similar to leaving cookies and milk out for Santa. The grass is for the horses that the 3 kings ride on traveling throughout the island leaving gifts for the children. 
What are some of the traditional foods consumed during
Navidad in Puerto Rico? 
Entrees:
Arroz con gandules - Is rice made with pigeon peas. Made with the pure Latin flavor of sofrito and sazón, along with diced smoked ham, this delicious rice is never missed during a holiday party. Here's a quick video of how we have made it. There is also a recipe posted below.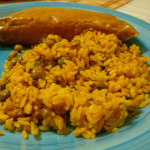 Arroz con longaniza

- This rice is similar to the arroz con gandules, however it is made with Puerto Rican sausage stir fried with sofrito, sazón, adobo, covered in broth and cooked to perfection. (This recipe card is included in our new holiday box, check it out

here

.) 

Lechón a la barra (or Pernil)

- The Puerto Rican roast pork or as it's commonly known "lechón asado" is a staple in every menu across the island during the Christmas holiday. However, for smaller parties, a "Pernil" aka pork shoulder can be done instead. This tradition started after neighbors and communities would come together to host street or block parties.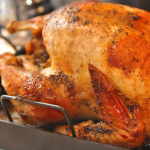 Pavochón

- Pavochón is a mashup of the words "Pavo" meaning turkey in Spanish, and "chón" which is part of the Spanish word "Lechón" meaning pig or pork. It is tradition in the Latin/Puerto Rican culture to do a pig's roast during the Holidays. Many choose to make turkey with the flavor of the pork roast. That is how the word "Pavochón" was born. Learn more and how to make it

here

.
Pasteles

- It's

the Puerto Rican version of tamales. Just like tamales which are a staple during the Holidays in most Latin cultures, Puerto Rican's have "pasteles". These are made with a starchy dough that consists of green bananas, yautia or yuca and, like my mom makes them, with a small piece of "calabaza" pumpkin or squash as well in the mix. Every family has their own unique way of making pasteles. Some prefer to make an all yuca dough while some choose more green bananas, or in a mixture. In the middle goes delicious stewed pork or chicken, with many times added chickpeas. These are then added into a banana leaf, folded and wrapped in paper, then boiled until cooked. 
Ensalada de papa ó de coditos

- Potato or macaroni salad is also a staple during the holidays. It is prepared very similarly to most other salads which can include mayonnaise, onions, peppers, and boiled eggs.

Ensalada verde

- A garden salad is also a must. Lettuce and tomatoes grow pretty organically in Puerto Rico. You will always see almost every dish accompanied by this dynamic duo as it is easy, versatile and a great way to add whole foods and color to any dish.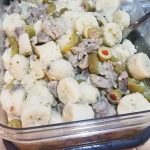 Guineos en escabeche

- Escabeche is a tangy onion sauce made by cooking onions with vinegar, garlic, bay leaves and other spices like black peppercorns. It can be used on fish, seafood and root vegetables. In this case, it is mixed with cooked green bananas, and sometimes even chicken gizzards. It is served as an appetizer or with the holiday main meal.
---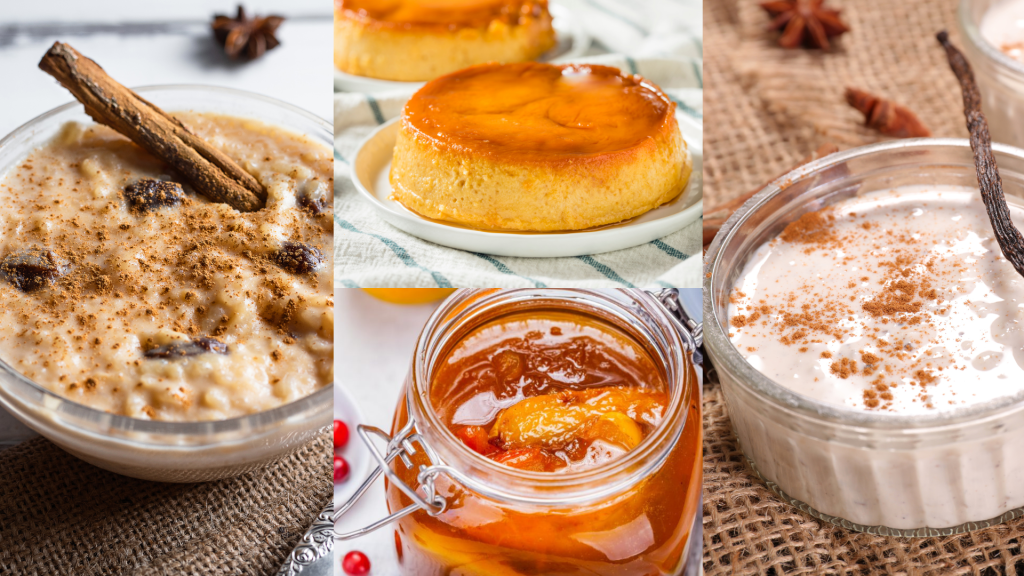 Desserts:
Arroz con dulce

- A sweet rice pudding made with milks, coconut milk and spices. It is served as a dessert, or made in bulk to give out as a holiday gift. Kinda like Christmas cookies in the US.

Dulce de

lechoza

- A candid papaya served as dessert, or as part of an appetizer when served with chunks of cheddar cheese.

Flan

- Flan is a popular Latin dessert. It's a caramel custard made with various milks, eggs and sugar. Popular flavors include vanilla, cream cheese, and coconut.

Tembleque

- This dessert is a coconut flavored custard made with various milks and sweet spices like cinnamon, anise and cloves.
Full recipes for arroz, pasteles, escabeche, arroz con dulce, dulce de lechosa, flan, coquito and more in our cookbook;
Healthy Rican: Put the Latin spice in your Healthy Life!
Alcoholic Drinks:
Coquito - This popular drink is the Puerto Rican version of eggnog. It is made with real coconut milk, sweet condensed milk, spices and rum.
Pitorro

- A moonshine made with fruits. It is burried months in advance and specifically planned out to be enjoyed during "Las Navidades".

Ron

- Like many Caribbean islands, rum is the most popular liquor of choice.

DonQ

and Bacardi being the most popular ones. 

Cerveza

- Light beers like

Medalla

, Coors and Corona are popular choices for the celebrations. 
---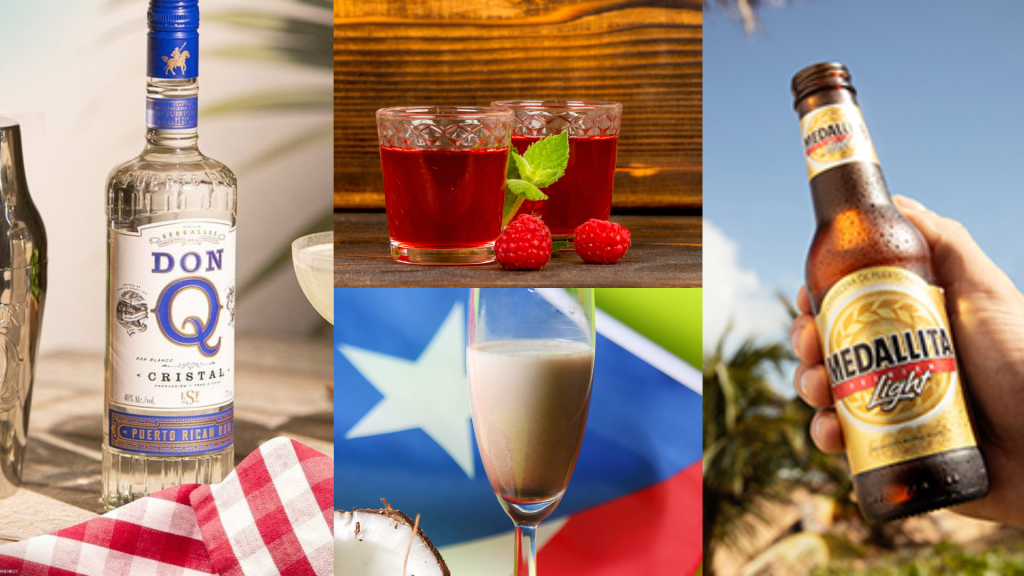 Thanks for reading our blog!
Have a FELIZ NAVIDAD!
Please let us know what you think of our articles and recipes in the comments below. We love hearing from you. 
Get in on exclusives and stay up to date! We send our best content on our monthly newsletters. Please join our mailing list here: https://sendfox.com/healthyrican
Want to find out more about our Healthy Rican Spice Brand?
Visit our online store! You will find out more about our healthy blends of Latin Adobo and Sazón made with all-natural ingredients. Plus, our innovative dehydrated sofrito and NEW Savory Spice Mix. Our NO-JUNK seasonings are made with pure flavor "Puro Sabor" and are free of MSG, GMOs, artificial ingredients, and artificial colors. 
 Find out more at our online shop here: https://healthyrican.com/online-shop/ 
 Questions? Click here to contact us.