What are pinchos?
According to Wikipedia: 
A pincho (Spanish: [ˈpintʃo]; literally "thorn" or "spike"), pintxo (Basque: [pintʃo]) or pinchu (Asturian: [ˈpintʃʊ]) is a small snack,[1] typically eaten in bars, traditional in northern Spain and especially popular in the Basque country, Navarre, La Rioja, Cantabria, and Asturias. They are usually eaten in bars or taverns as a small snack while hanging out with friends or relatives; thus, they have a strong socializing component, and in the Basque country and Navarre, they are usually regarded as a cornerstone of local culture and society. They are related to tapas, the main difference being that pinchos are usually 'spiked' with a skewer or toothpick, often to a piece of bread. They are served in individual portions and always ordered and paid for independently from the drinks. It is not impossible, however, for the same item to be called pincho in one place and tapa in another.
They are called pinchos because many of them have a pincho (Spanish for spike),[2] typically a toothpick —or a skewer for the larger varieties— through them. They should not be confused with brochettes, which in Latin America and some parts of Spain are called pinchos too; in brochettes, the skewer or toothpick is needed to cook the food or keep it together.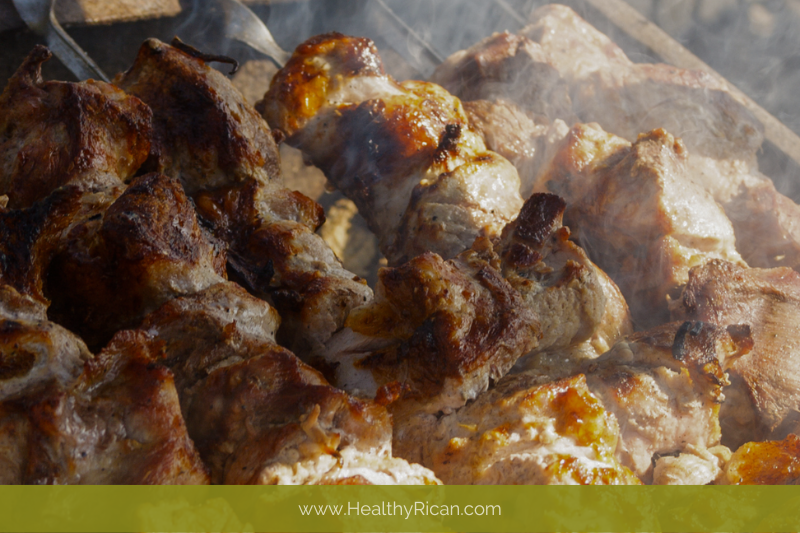 What are Puerto Rican pinchos? 
Pinchos is what Puerto Ricans call good ol' shish kabobs. They are considered a Puerto Rican "fast food" staple and one of the best street foods on the island. Besides being affordable, they are delicious and perfect when on the go. Pinchos can be made with and/or a variety of ingredients like chicken, pork, steak, vegetables and even tostones. Pork and BBQ chicken are definitely the most popular. Topped with a slice of "pan sobao", it's perfection on a stick.  
How To Make Pinchos
To make pinchos, you will need a meat of choice (cut into small chunks), skewers, vegetables and sauce of choice. You would assemble the raw ingredients into the skewers, and cook on a grill or large skillet, then top with a sauce of  your choice. Typically BBQ sauce is amongst the most popular. 

How To Make Puerto Rican Pinchos De Pollo
Here, I will teach you how to make the most popular "Pinchos de Pollo" as they have the potential to be a sensation during your next barbecue or gathering. I will also share the SECRET SAUCE that made my best friend's dad a sensation during the 90's. When my friend's dad lost his job, he put up a little stand in front of their house and it was an instant hit. People would come from all over to buy the best tasting pinchos in town. They would sell out every time! That's how I learned how to make pinchos and the secret sauce that made them a hit. I'd come over to visit my best friend, and was offered to work in exchange for free food. It was a win-win, and I was one happy teenager.
Puerto Rican Pinchos De Pollo (Chicken Kabobs)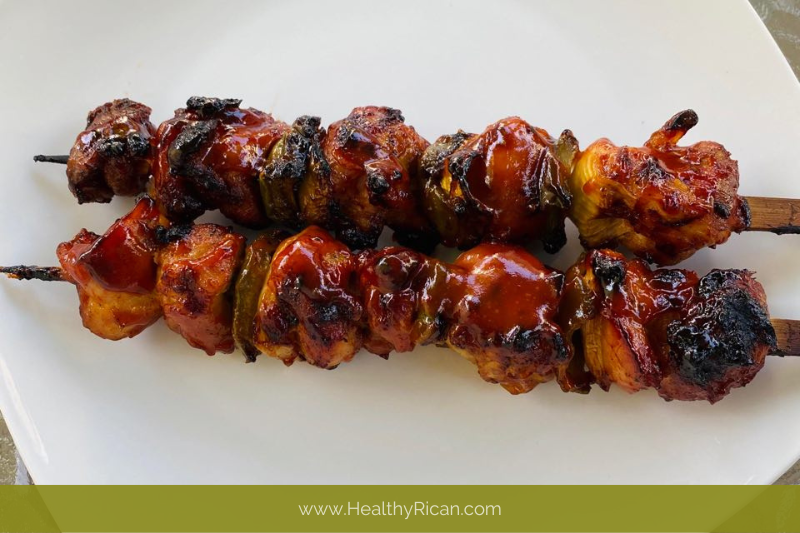 Pinchos Secret Sauce
Ingredients:
16 oz or 2 cups of BBQ sauce

16 oz or 2 cups of Thousand Island dressing (yup! that's the secret sauce)
Directions:
In a bowl, mix together the BBQ sauce and thousand island dressing. Divide into 2 bowls. One is for applying onto the raw chicken, and one to apply right before serving.
Healthy Rican Pinchos 
Ingredients: 
(Makes approx. 24 pinchos) 
6 lbs of chicken thighs (boneless & skinless)

2-3 tbsp. Healthy Rican Adobo and Sofrito, or our new

Savory Spice Mix

3 medium yellow onions

3 large green peppers

Shish kabobs sticks
Directions: 
Cut the chicken thighs into square pieces. Between 2-3 inches thick. Cut off the fat (white chunks) if needed. Depending on the size, you can get 4 to 6 pieces from each thigh. Add chunks to a large bowl.

Season the meat thoroughly with the Adobo, Sofrito, and/or Savory Spice Mix seasoning. If you do not have Healthy Rican products, you can order

here

, or add salt, pepper, and garlic powder to taste.

Chop the onions and peppers into approximately 1-2 inch squares (see picture below).

Prepare the pinchos/shish kabobs by adding a chunk of meat, one slice of each of the onion and pepper, and repeat the process until the stick is full. To avoid the meat from flopping out, you can fold or twist the meat before adding to the stick (see picture below).

Cook on a charcoal or gas grill on medium/low heat to avoid burning. Slight burning might occur on the outside, especially when cooking with charcoal. That is why low heat is recommended to allow the meat to cook thoroughly.

Depending on the thickness of the meat, it will take approximately 45 – 60 mins to cook. The thinner you cut the meat, the faster it cooks. Make sure the internal temperature of the meat is a minimum of 165 degrees.

Add the sauce mixture onto the raw pinchos immediately after placing them on the grill.

Close/Cover the grill.

Half way through, flip the pinchos, and add another layer of sauce. Continue to add sauce, every time you flip the pinchos.

In order to prevent cross contamination, do not use the same utensils used to add the sauce onto the raw meat, onto the cooked meat.

Add the last layer of sauce right before serving.

Serve with a slice of "pan sobao"/bread of choice.

Enjoy!

Let us know what you think of this recipe down below in the comments. We love to hear your feedback. Show us your creations, tag us on Facebook and Instagram!

Want more recipes? 
Check out our previous blog posts here: https://healthyrican.com/blog/
Or visit us on social media @healthyrican
As always, we love connecting with you. Thank you for reading our blog!
Please let us know what you think of our articles and recipes in the comments below. We love hearing from you. Get in on exclusives and stay up to date! We send our best content on our monthly newsletters. Please join our mailing list here: https://sendfox.com/healthyrican
Want to find out more about our Healthy Rican Spice Brand?
Visit our online store! You will find out more about our healthy blends of Latin Adobo and Sazón made with all-natural ingredients. Plus, our innovative dehydrated sofrito and NEW Savory Spice Mix. Our NO-JUNK seasonings are made with pure flavor "Puro Sabor" and are free of MSG, GMOs, artificial ingredients, and artificial colors. 
Find out more at our online shop here: https://healthyrican.com/online-shop/ 
Questions? Click here to contact us.