Welcome to the Healthy Rican Familia!!
If you are on this page, that means you've recently purchased from us. Thank you for being here!
"I appreciate your support towards my small business." -Mayra, Founder
As part of the Healthy Rican familia, you will get the inside scoop on new products, collaborations, launches, exclusive content and more... Stay in touch through our monthly newsletter. Keep an eye on your inbox  the 1st Monday of every month. 
Okay, so you've received our products, now what? Save this page to your favorites and let's get cooking below. Please share your creations with us on social media. We love hearing from you. Follow and tag us @healthyrican
How to use
Healthy Rican Sofrito
Sofrito is a base to add flavor to various Latin foods and dishes. However, it's so versatile, it can be used as a dry rub to marinate meats, and added in soups and stews. It also makes a great dressing and marinade when hydrated in water and/or olive oil. Our dehydrated version is great to have on hand for it's convenience and long shelf life.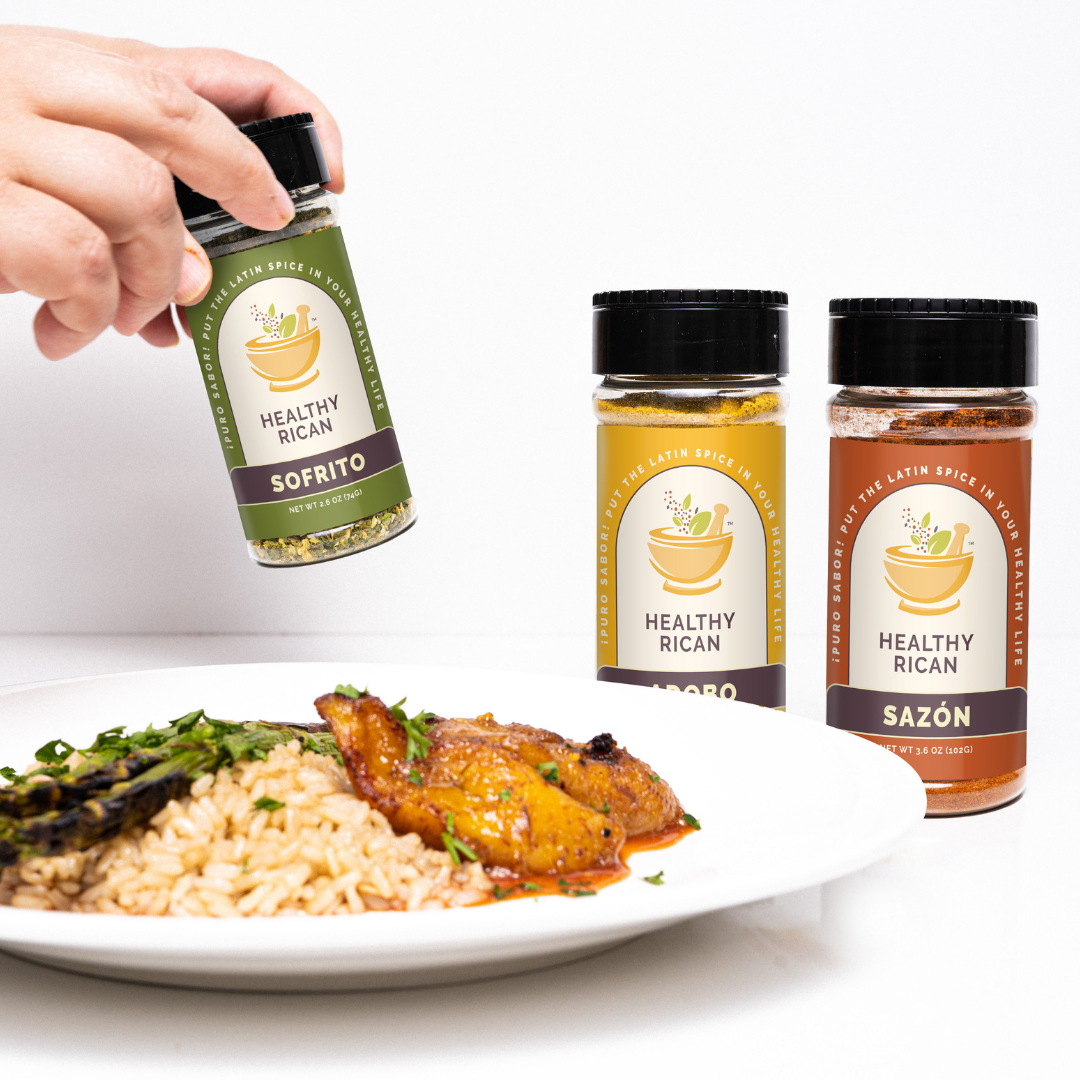 How to make Sofrito Magic: 
In a small bowl, mix together the sofrito and water, and prepare to be amazed. Wait a few minutes before using the sofrito in your meals. Once the water has been completely absorbed, the sofrito is ready for use. Typically sofrito is stir fried before using in foods like yellow rice, beans and stews. Give it a try and let me know what you think. 
If this is your first time cooking with sofrito, check out my recipes below and on my blog! 
HEALTHY RICAN'S ORIGINAL RECIPES
Simple Yellow Rice with Beans
Ingredients: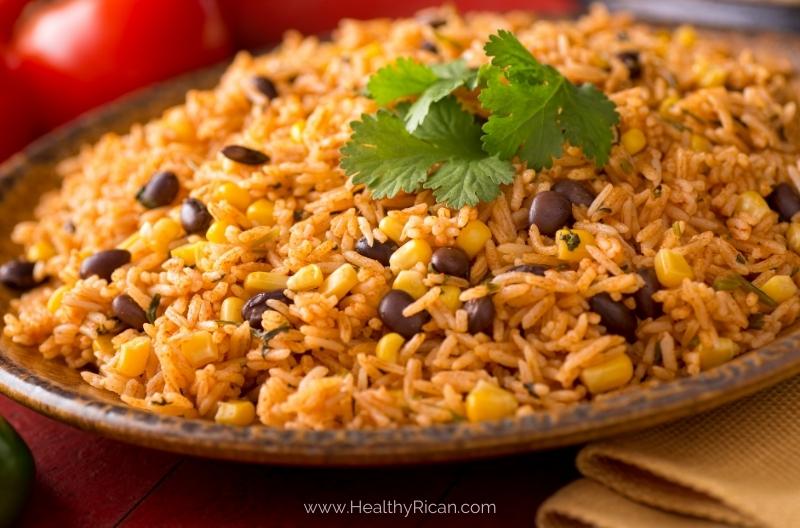 Directions: 
In a medium pot, on high heat, stir fry the hydrated sofrito in the oil until it releases it's aroma (just a few seconds). 
Quickly add the sazón, rice, beans, and broth. Mix well. The liquid should be 1/4" above the rice. 
Add the salt, or adobo. Taste the liquid to make sure you like the taste and it has enough salt to your liking. Add any additional spices to taste. 
Allow the liquid to come to a boil, and once it slightly disappears, reduce the heat to low. 
Stir once or twice from the bottom up to make sure the rice cooks evenly. 
Cover and allow to cook for 10-15 minutes, or until the rice is soft and sticky. 
P.S. This is just a simple way to cook rice and beans. Other ingredients may be added as well like; ham, diced onions and peppers, chopped cilantro, veggies and more. The possibilities are endless, and this is just a start.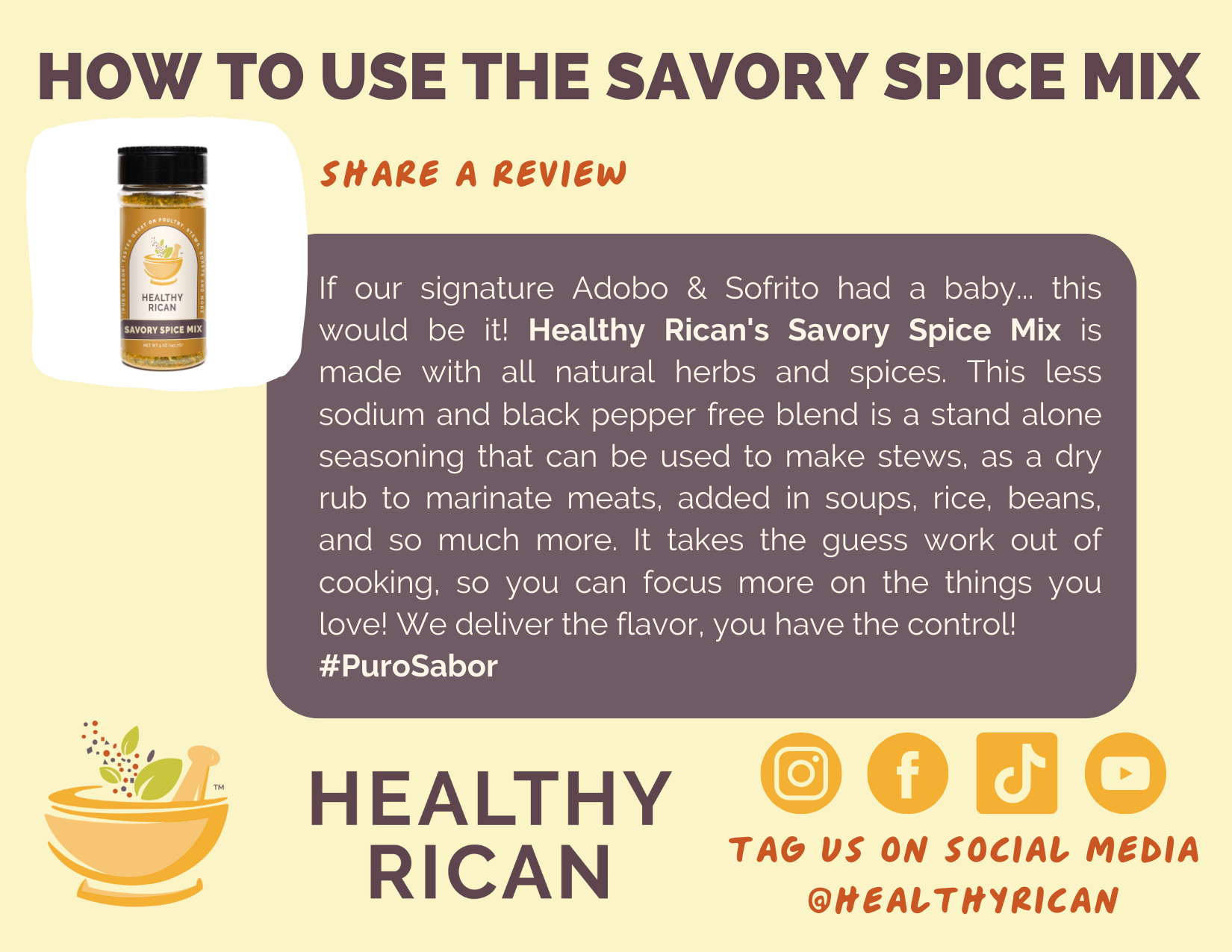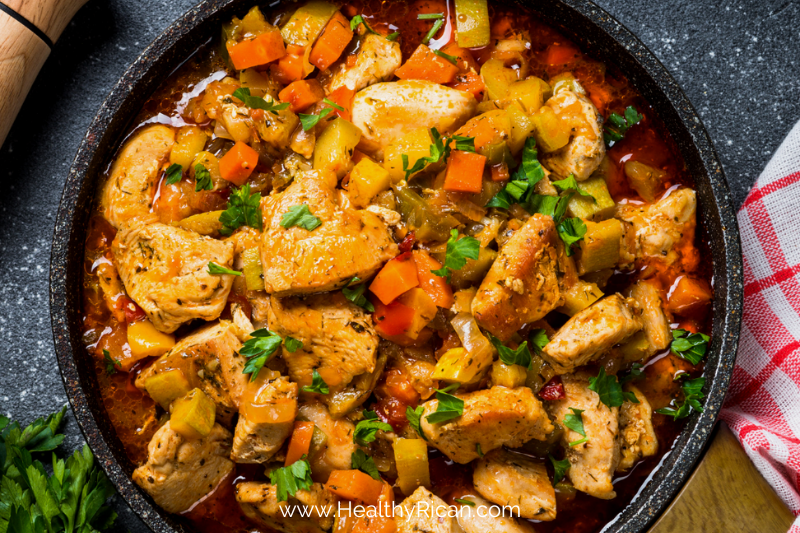 Savory Chicken Stew
Ingredients: 
2 lbs. chicken thighs
1 tbsp. Savory Spice Mix
2 tsp. garlic paste or minced garlic
1 small onion
1 large carrot
2 celery sticks
1 large potato
1/2 cup

tomato sauce

2 cups chicken broth
Chopped fresh cilantro (optional)
Directions:
Marinate the meat with the Savory Spice Mix and garlic before cooking (the longer the better or perhaps even over night in the fridge). 
Meanwhile, peel and dice all the vegetables (onion, carrot, celery and potato) into small squares. If desired, chop about 1/4 bunch of cilantro for cooking and garnish. 
On high heat, add a bit of oil to a large pot or pan. 
Add the meat and brown for a few minutes on each side. Add the vegetables, tomato sauce, broth, and 1/2 of the cilantro if using. 
Cover and cook on high heat until the chicken is completely cooked and veggies are soft and tender. Approximately 30-35 minutes. Internal temperature of the chicken should be between 165°F - 195°F. 
Uncover and continue to cook until you achieve desired broth thickness. 
Serve with your favorite rice and enjoy! 
Scroll for more recipes... 
from our social media... @healthyrican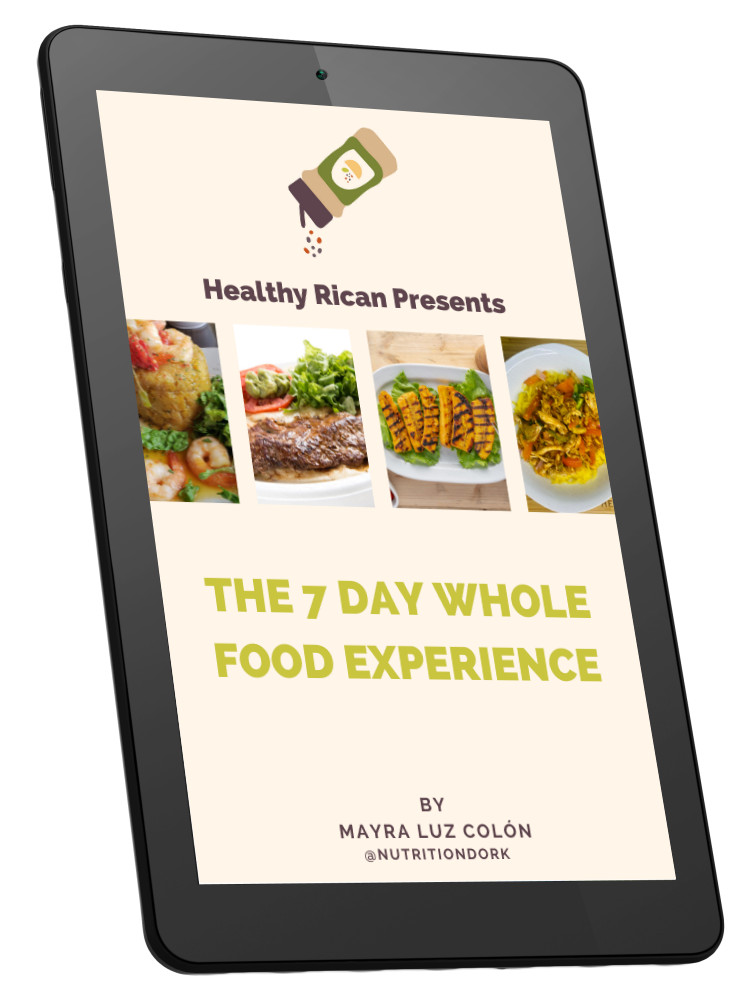 Download our FREE digital recipe book!
It's my 7 day meal plan based on my Whole30 experience as a Latina Holistic Health & Nutrition Coach (aka Nutrition Dork)