The secret to Puerto Rican cooking comes from various spices and herbs like culantro aka recao, cilantro, oregano, and other vegetables native to the island. Vegetables like garlic, onions, and peppers are a staple in Puerto Rican cuisine. 
The primary spice blends are Adobo and Sazón. That with the addition of Sofrito, the base in almost all the recipes. Together these create the traditional flavors found in most Puerto Rican foods. I call it the Puerto Rican trifecta! 
Below I will explain a little more of each of the primary spice blends and sofrito.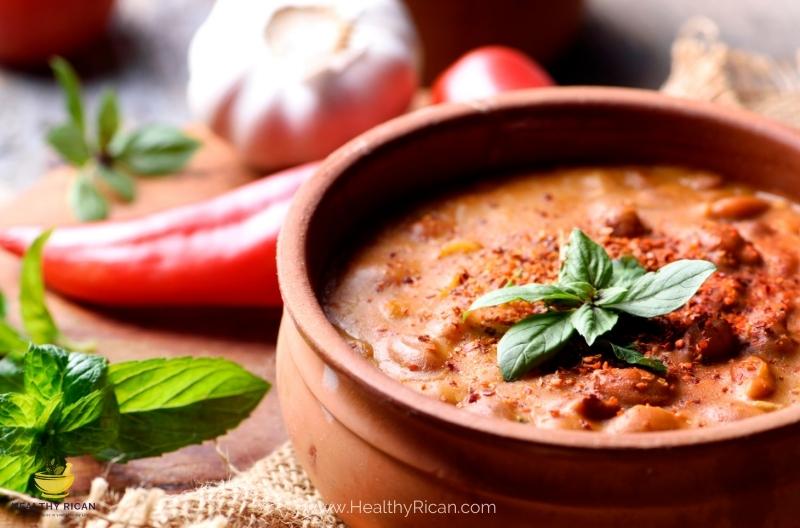 Adobo
A blend of garlic, salt, black pepper and oregano.
Adobo is mainly used to marinate meats like chicken, beef, and pork. Adobo is the primary blend that gives the pork roast its delicious flavor during the holidays in Puerto Rico. Whether for the traditional pig's roast "lechon a la barra" or the famous pernil, adobo is a must. Adobo can be made with fresh ingredients in a mortar and pestle and dehydrated into a spice blend for everyday use. As a spice blend, adobo can also be used as a seasoning salt in various foods and recipes, like sprinkled on top of fried plantains, in rice and beans, soups, stews, and so much more.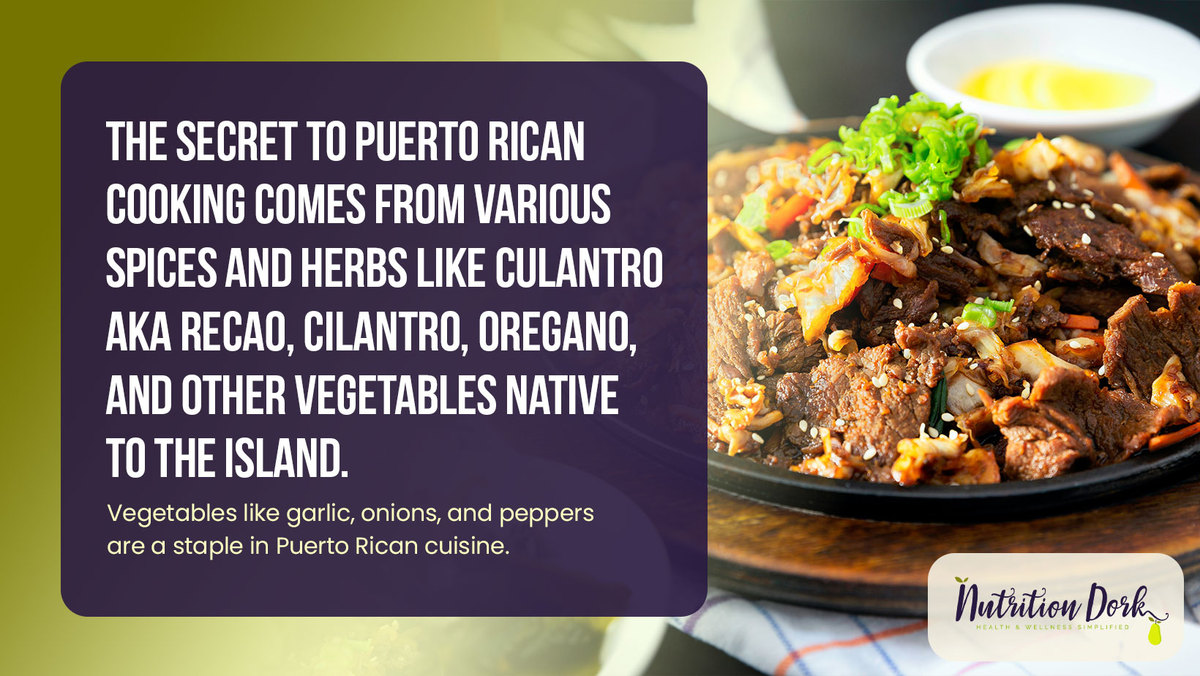 Sazón
A colorful spice blend made with annatto aka "achiote molido". 
Sazón is used primarily to add color to the foods. Traditionally Latin/Puerto Rican foods are vibrant and colorful. They are definitely more appealing that way. Sazón is used in rice, beans, stews, soups, and more. It is what gives the food it's nice orange/yellow color. The color comes from a seed called annatto aka achiote. The color can be extracted with oil or water. The seeds can be used whole infused in oil or grinded and added directly into the foods. Throughout the years and the evolution of Latin cuisine, the sazón blend was created. It's a blend of grounded annatto seeds mixed with salt, garlic, and other spices like black pepper, oregano, or cumin. The spice blend can vary but ultimately has the same goal: adding vibrant color and delicious, unique flavor to traditional Latin/Puerto Rican foods.
Learn more about "what is sazón?" and "how to use a sazón seasoning?" here!
Sofrito
A blend of onions, sweet peppers, cilantro & culantro, garlic, and sometimes tomatoes.
Sofrito is the key ingredient in Puerto Rican cooking. It is what gives the food its authentic, delicious flavor. Sofrito is used in almost all cooked foods, including rice, beans, soups, stews, and various meat recipes. According to Google's dictionary, sofrito means; a Caribbean and Latin American sauce of tomatoes, onions, peppers, garlic, and herbs. You will find a variation of sofrito recipes depending on the country of origin. To make sofrito, Puerto Rican's blend all the ingredients together and save them in the refrigerator or freezer for the next time they are making a meal. In some countries, the sofrito is cooked, jarred, and kept as a base or sauce in their foods.  
You can find out more here!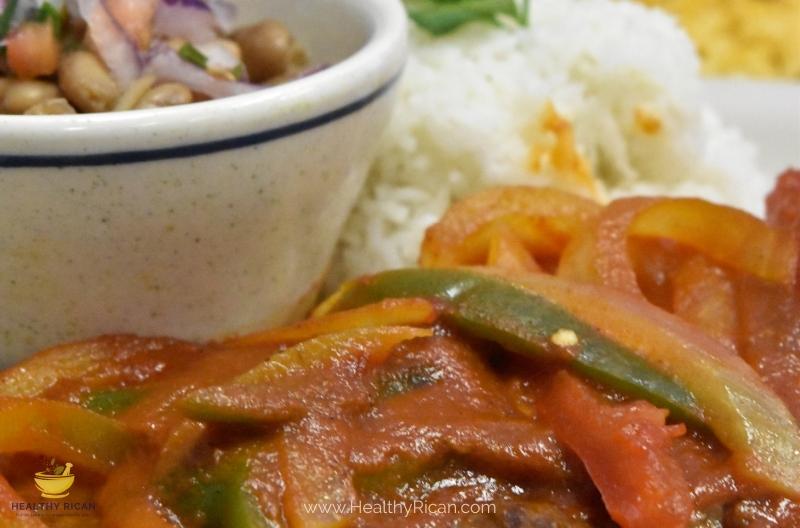 ---
The Puerto Rican Trifecta
Together, Adobo, Sazón and Sofrito create the Puerto Rican trifecta. Individually they are great,and together they are even better. Example: There is nothing like a Puerto Rican beef steak smothered in onions ("bistec encebollado"). Flank steak marinated in adobo, sazón, and sofrito, then slowly cooked to tenderness perfection. It's an absolute favorite, and all due to the sofrito and mixture of the flavors. Or, how about a delicious plate of arroz con gandules, with a side of bean stew, and the most flavorful meat that was marinated in abobo and sazón before cooking. Just yum!! 
You can find the recipes for arroz con gandules and bistec encebollado here! 
Happy Mid-Week!

Our Salad Special is Red Cabbage, Carrots, Mandarin Oranges, Apples and Feta Cheese.

Today a taste of Puerto Rico ~ Pernil & Arroz con Gandules (Pulled pork with Rice and Pigeon Peas)

We also have Chicken Rice Soup. pic.twitter.com/yPs84pV0wQ

— Cafe 128 (@128WStateCafe) April 3, 2019
Here's a delicious recipe to get you started and experience the delicious flavors of Puerto Rican cuisine: 
An Asopao is a Puerto Rican version of a rice stew. According to Wikipedia, it is actually Puerto Rico's national soup and one of the most important gastronomic recipes in Puerto Rico. The word "Asopao" comes from the Spanish word "Sopa." Its meaning is soupy, or soup-like in Spanish. In this variation of soupy stew, rice is the show's star instead of the meat predominantly found in most stews.  
There are different variations of Asopao, which include; chicken, pork, beef, sausage, seafood, vegetables, and/or any combination of these. For Asopao de Gandules, we use pigeon peas as the protein of choice. *Traditionally, Asopao de Gandules is made with sausage, especially "salchichón". Salchichón is like a salami. However, it is a bit spicier and smaller in diameter. Almost like salami and pepperoni had a baby. It is basically the Spanish version of salami, as salami is mainly Italian (salami can also be used if salchichón is not available). I've omitted the sausage to keep it healthy and generic for this recipe, as it is a recipe that anyone can enjoy.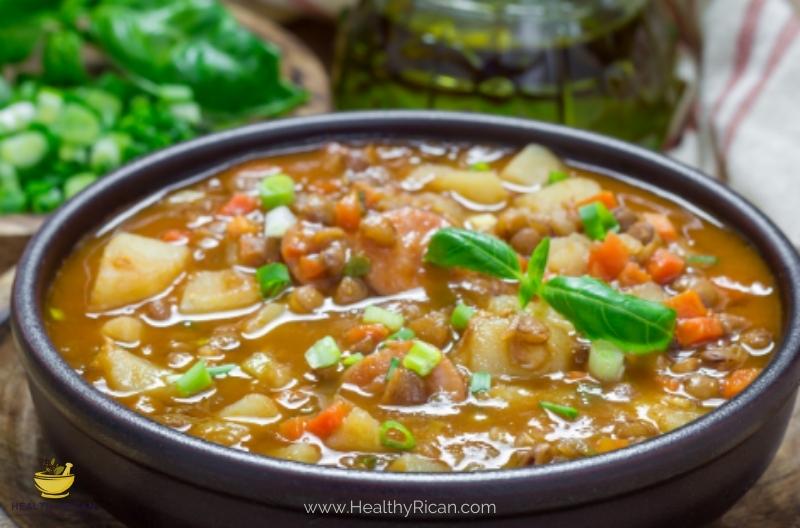 Vegetarian Asopao de Gandules
"Pigeon Peas & Rice Soup"
Ingredients:
1 tbsp avocado oil (or cooking oil of choice)

2 tbsp

sofrito

or 2 tbsp dehydrated

Healthy Rican Sofrito

(hydrated in ¼ cup of water)

1 tbsp stuffed spanish olives (optional)

2 tbsp red peppers

1 tbsp vegetarian bouillon (

Better than Bouillon

) 

2 tbsp tomato paste

1 tsp

Healthy Rican Sazón

2 cups or 1 can cooked gandules

¼ cup jasmine or white rice

½ cup chopped carrots

½ cup chopped celery

½ cup chopped onions

1 cup chopped squash

1 cup chopped potatoes

4 cups water

1 tsp

Healthy Rican Adobo

or Salt and Pepper to taste
Directions:
Bring a large pot and boil to high/medium heat. Quickly add the oil, sofrito, olives, red peppers, bouillon, tomato paste, and sazón. Stir fry until the sofrito releases its aroma and the ingredients are mixed well. 

Add the cooked gandules, rice, carrots, celery, onions, squash, potatoes, and water. 

Mix well, and add the adobo or salt and pepper to taste. Try the liquid to make sure it's to your liking. Add additional seasonings if preferred at this time. 

Allow for the liquid to come to a boil. 

Cook on medium heat until the vegetables and rice are completely cooked through. 

Enjoy!
*For the non-vegetarian version of this soup, you can add the chopped sausage aka salchichón, when stir-frying the sofrito and other ingredients. 

Check out our quick tutorial video on TikTok: 
Instagram post:
A note from HealhtyRican: 
This soup is a great healthy alternative to high in sodium canned soups. You can prepare a big batch and save it for lunches throughout the week or freeze them for a later day. In addition, this soup provides a great deal of nutrition from vegetables, and it is high in protein due to the gandules. Gandules are also high in potassium and magnesium, which are important for our overall health. Plus, this recipe is gluten-free friendly and a great complete meal for vegetarians or those who enjoy having meatless Mondays. This recipe is also completely plant-based, as it's made with all-natural, wholesome ingredients. All of that, without losing the authentic Puerto Rican flavors we all love and enjoy.