What is Bacalao?
In Puerto Rico, a salted cod fish is known as "Bacalao." Salted cod is when the cod has been preserved by drying after salting. This process was done to ensure that the fishermen in Portugal and European countries could have the food they needed for many months at sea. It was introduced to the Caribbean islands in the 16th century.
Bacalao is used in many ways in Puerto Rican dishes. Gazpacho is one of the most popular. However, you will find Bacalao as a stew, like a fritter, and much more in rice. Many generations have used Bacalao, which is considered relatively healthy. This salted cod fish is high in protein, omegas, and healthy fats.
Codfish health benefits include; high levels of omega-3 fatty acids, the same type found in oily fish or seafood like salmon, mackerel, and sardines. It's also one of the few best vitamin D–rich foods. Omega-3 fatty acids and healthy fats are proven to improve joint mobility and brain function, reduce inflammation, improve overall health, and much more. Check out more of the benefits in the resources below.
To make bacalao, start by removing the excess salt. You can do this by rinsing the fish a few times, then leaving it in fresh water for a few hours. You can rinse the fish well and boil it in water to speed up the process. These processes may be repeated until you achieve the amount of salt and taste desired.
Nutrition Dork Tip: Make sure the package says "Wild Caught" or codfish from Alaska. Due to ocean contamination, we need to ensure we get our fish and other seafood from great healthy sources.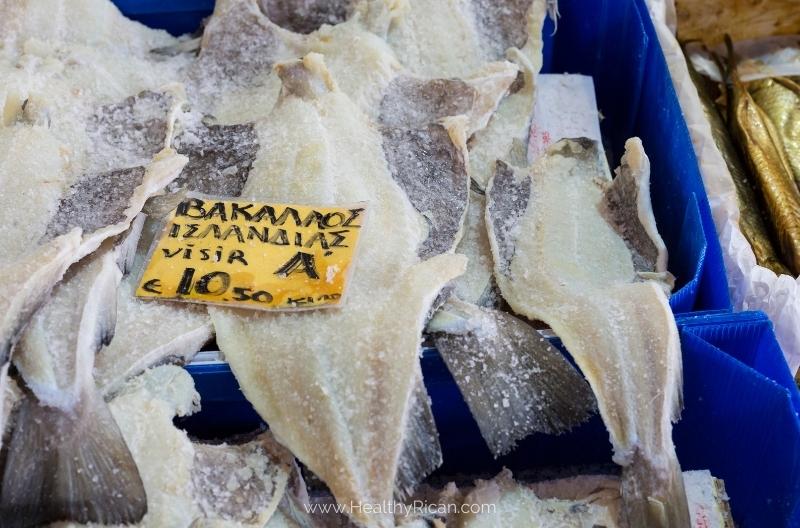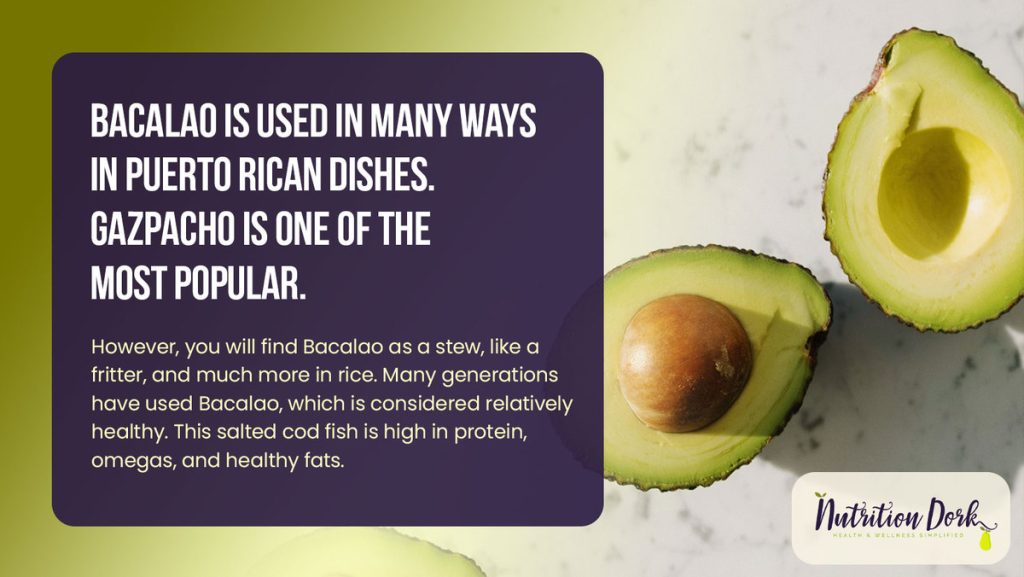 What is Gazpacho (Puerto Rican Gazpacho)?
Gazpacho is a Puerto Rican salted cod fish salad. The bacalao helps bring the ocean flavor to this salad, which is the key ingredient. It is made with avocados (adding extra nutrition), onions, and tomatoes. Then marinated with olive oil, salt, and pepper to taste, and squeezed lemon if desired to add a tangy flavor and freshness to the salad. This salad can be refrigerated for up to 24 hours, but it's best when served immediately. Typically this dish is served inside a soft roll or on the side of white rice. Other healthy pairings are 1 cup of brown rice or cooked quinoa for a low-carb option. 
Nutrition Dork Tip: If served with quinoa, this dish is low in carbs, high in protein, omegas, and healthy fats. All proven to promote weight loss, so ENJOY!!
PUERTO RICAN GAZPACHO RECIPE
Cod Fish Salad
Ingredients:
(Serves: 4-5)
Directions:
Rinse the salt of the fish very well (2 or 3 times). You can also soak overnight or for a few hours. I usually rinse the fish very well, then boil it to remove the excess salt. Sporadically taste the fish to make sure it's to your liking.

Let it cool and rinse with cold water.

In a large bowl, mix the chopped avocados, chopped onion, chopped tomatoes, olive oil, vinegar, and lemon juice.

Pull the fish into flakes and make sure there are no stray bones.

Add the fish to the bowl with the rest of the ingredients and mix very well.

Add pepper to taste and salt if needed. The fish might still have some remaining salt.

Serve immediately and ENJOY!
Source: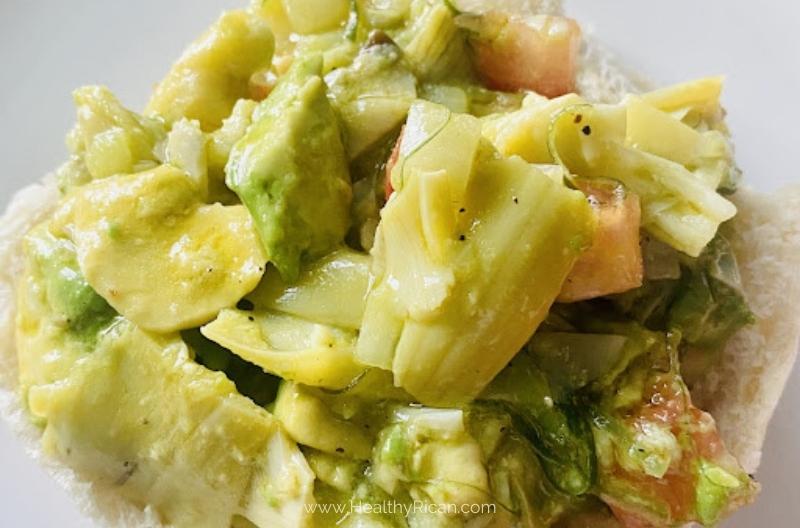 Plant Based Gazpacho Anyone? 
I created this recipe while I was on a 10-Day Plant-Based experience. I love incorporating more plants and vegetables into my daily nutrition, and an excellent way to detox from animal products is to go without for at least 10 days. During my 10 days, I was craving gazpacho. As I thought of ways to re-create this popular Puerto Rican dish, I thought of seaweed. Seaweed is a good source of protein, vitamins, and minerals, plus it has the ocean flavor needed in gazpacho. Artichokes reminded me of the look and texture of bacalao when the light bulb turned on. That's it! I'll make a plant-based gazpacho with artichokes and seaweed to replace the bacalao. Quite honestly, I couldn't even tell the difference! Check it out, and let me know what you think in the comments.  
PLANT BASED GAZPACHO
Artichoke [Fish-Free] Gazpacho Salad
Ingredients: 
(Serves: 4-5)
HEALTH BENEFITS OF AVOCADO
Since avocado is a key ingredient in Gazpacho, I figured I'd touch base on the health benefits. Avocados bring a lot to the table, and besides their creamy texture and subtle flavor, avocados are rich in many nutrients that are beneficial to our health. Having high levels of healthy, beneficial fats, Avocados can help a person feel fuller between meals. Aside from that, this fruit is an excellent source of vitamins C, E, K, and B6 and riboflavin, niacin, folate, pantothenic acid, magnesium, potassium lutein, beta carotene, and omega-3 fatty acids. Avocados are definitely a superfood! In combination with other vegetables and a great source of protein, these make a great part of a nutritious well-balanced meal.
Are you craving healthy Puerto Rican food? Find out the mouthwatering recipes here. #HealthyPuertoRicanRecipes #NutritionDork https://t.co/zaFaCTLYV5 pic.twitter.com/kDKk6MF3yt

— Mayra Luz - Nutrition Dork (@nutritiondork) March 31, 2021
Thanks for reading our blog! Please let us know what you think of our articles and recipes in the comments below. If you'd like to stay up to date, join our mailing list here:
https://sendfox.com/healthyrican
Want to find out more about our Healthy Rican Spice Brand?
Visit our online store here. You will find our Healthy Blends of Latin Adobo & Sazón made with all-natural ingredients. Plus, our innovative dehydrated sofrito. Our NO-JUNK seasonings are made with pure flavor "Puro Sabor" and are free of MSG, GMOs, artificial ingredients, and artificial colors. Find out more at our online shop; https://healthyrican.com/online-shop/
Click here to contact us.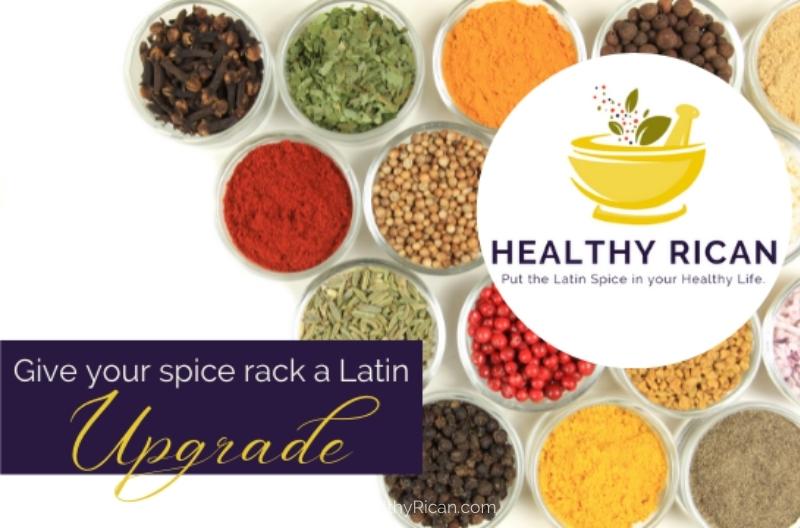 Also check out https://nutritiondork.com/ for our previous blogs, a free Healthy Desserts Ebook, nutritional wellness coaching, and more.