How to Use Dehydrated Sofrito 
+Recipe: Bistec Encebollado
Hey, Mayra here, Founder of Healthy Rican. Thank you for being here and reading our blog. Before we go into it, I just want to explain why I created this dehydrated sofrito blend. There are a few reasons actually but this is how it first happened. 
One day as I was creating content for social media I realized that not all my followers are from a Latin descendance. Many are from different cultures and just happen to love living a healthy lifestyle as much as I do, and love Latin foods as well. As banishing bland foods is part of our mission, I started thinking to myself, will my followers that are not from a Latin descendance really make a full batch of fresh sofrito, just to enjoy one Latin dish or meal? In fact, does a busy person that only cooks once a week really use up a whole fresh batch of sofrito? Or how about when just cooking for one? Of course freezing the sofrito in ice cube trays is an option, but is it really a good idea long term? Even in the freezer, it can get freezer burn, or make other foods taste funky after being in the same space for a while. I don't know about you, but I hate when ice cubes have a funny food taste to them. 
After much pondering I thought, "What if there was a dehydrated sofrito, that could be rehydrated and used in place of fresh sofrito? Would it work? Would it even taste the same, or even good?" Well I guess it's time to go to the drawing board. In my case, experimenting in the kitchen, and do some good ole RND (research and development). I mixed the dry ingredients, cooked with them, mixed them, cooked with them, a few times as I got feedback from my family. After I had an idea of what I wanted, I provided my suppliers with the idea and recipe. I took 7 tries working with the quality team to get the recipe just right. After that, I had my mom make me her bean stew to make sure it had my mom's (Abuela's) stamp of approval. If she can cook with my products, and the food tastes just as good, or even better, that's when I know my product is ready to be launched. I knew it was ready when all her grandkids (that absolutely love her food and think it's the best) ate up the beans, asked for seconds, and didn't even realize there was something different. 
Other reasons I came up with this dehydrated sofrito was to use as a salt-free seasoning to marinate meats, and/or give extra flavor to any food or any meal. In a way it's kind of the Latin version of Italian seasoning. It is such a great addition to any spice rack. Dehydrated sofrito is also a great alternative to have on hand in case of power outages that unfortunately are an issue in Puerto Rico right now. Having this blend on hand means that the authentic Latin flavor doesn't have to be missed, no matter what the circumstance is. 
Now let's dig a bit deeper and answer the most frequently asked questions (FAQ) about sofrito and dehydrated/dry sofrito. 
What is Sofrito?
Sofrito is a cooking base in many Latin cultures. It's what gives the food its fresh authentic delicious flavors. It's made with a variety of fresh herbs and vegetables, each country has its own version. In the Caribbean, most common sofritos consist of onions, garlic, peppers, culantro and cilantro, and sometimes tomatoes. This blend is used in rice, beans, stews and more.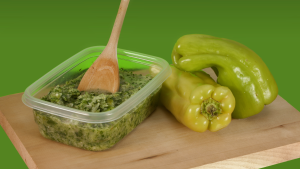 What is dehydrated and/or dry sofrito? 
A dehydrated or dry sofrito consists of the same elements as a fresh sofrito. In this case,  all herbs and vegetables have been dehydrated to preserve the flavors and allow the blend to have a long stable shelf life. Once processed, dehydrated vegetables require no refrigeration or freezing. It can then be used as a dry seasoning in a variety of meals, as well as rehydrated and used in various Latin cuisine recipes like Spanish rice, bean stew and more.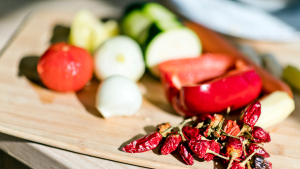 What is dehydrated sofrito used for? 
Dehydrated sofrito can be used as an all purpose seasoning. It can be sprinkled over eggs, plantains, to marinate meats and/or rehydrated to be used as a base in place of fresh sofrito. It is a great alternative when on the go, to keep in case of power outages and more. Since most of the water is gone, dried vegetables are lightweight, making them handy for camping and emergency preps as well. 
Is dehydrated sofrito the same as sofrito seasoning? 
Yes, dehydrated sofrito can be used as a seasoning and added to many foods including meats, poultry, eggs, potatoes, soups, stews and much more. The salt-free mix of herbs and spices makes it a perfect addition to any dish. 
What makes Healthy Rican's dehydrated sofrito better than the sofrito in stores? 
Healthy Rican's dehydrated sofrito is a perfect alternative to buying the sofrito available in stores. Many frozen or jarred sofritos include preservatives, added ingredients, artificial colors to make them appealing, and are typically high in sodium to preserve the flavors. Healthy Rican products are made with the highest quality ingredients, are non gmo, all natural, without any additives, preservatives, or msg.
How to use dehydrated sofrito? 
Dehydrated sofrito can be used as a dry rub on meats, added in soups and stews, sprinkled over foods like eggs, fried plantains, and even pizza! It can also be re-hydrated in water and used in place of fresh sofrito. Dehydrated sofrito also makes a great dressing when mixed with olive oil, salt and lemon juice. 
Can I use dehydrated sofrito in my rice and beans? 
Absolutely! Our Healthy Rican dehydrated sofrito was designed to have the option of re-hydrating it with water in order to use in typical Latin dishes like rice and beans. 
The beauty is that it is shelf stable and can be used as needed or as a stand alone salt-free seasoning to add extra flavor to any food.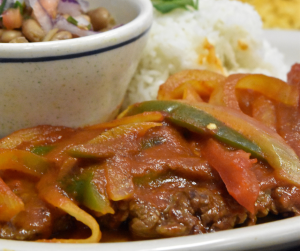 +Recipe: Bistec Encebollado
(Beefsteak and onions)
Ingredients:
Directions:
In a large bowl, add the meat and marinate with vinegar, sofrito, adobo, sazón and black pepper. 

Allow the meat to marinate for at least an hour before cooking, or overnight in the fridge. 

Add the meat, bay leaves, onions and olives to a medium pot. 

Cook on low heat for 20 minutes or until meat is cooked and tender. 
Note: Remember to add your own twist and "sabor" (flavor) if desired. You can add colorful sliced peppers, vegetables, and a small amount of tomato sauce if desired. Serve with a side of rice, plantains and/or a nice salad on the side. A slice of avocado is always a great addition to this dish.
Enjoy!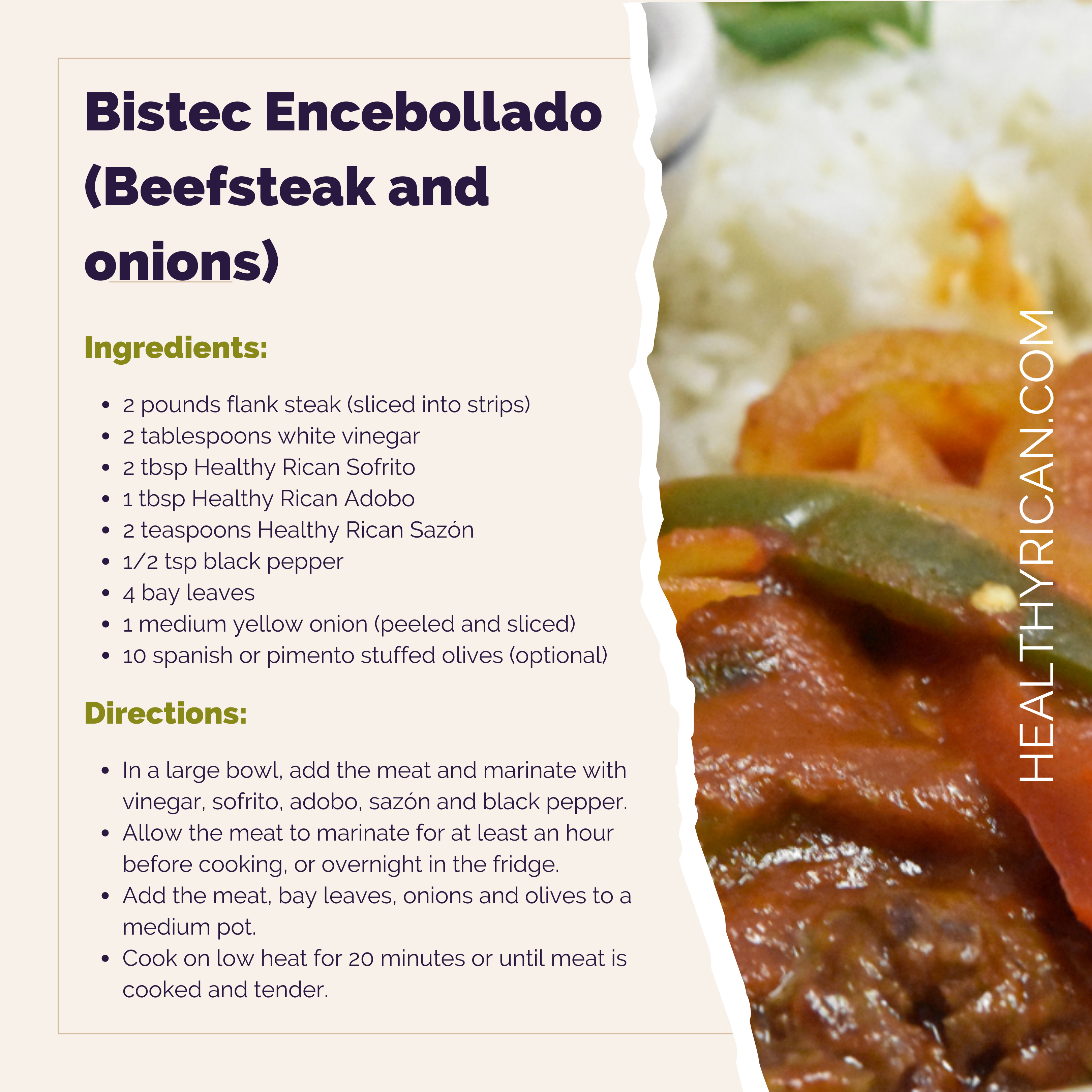 Thanks for reading our blog! Please let us know what you think of our articles and recipes in the comments below. If you'd like to stay up to date, join our mailing list here:
https://sendfox.com/healthyrican
Want to find out more about our Healthy Rican Spice Brand?
Visit our online store here. You will find our Healthy Blends of Latin Adobo & Sazón made with all-natural ingredients. Plus, our innovative dehydrated sofrito. Our NO-JUNK seasonings are made with pure flavor "Puro Sabor" and are free of MSG, GMOs, artificial ingredients, and artificial colors. Find out more at our online shop; https://healthyrican.com/online-shop/ 
Click here to contact us.