Healthy Rican Seasonings are NOW Whole30 Approved! Yay!
Hey, It's Mayra the Owner and Founder of Healthy Rican. I'm thrilled to announce our partnership with Whole30 and our Whole30 Approved seasonings! As a Holistic Health & Nutrition Coach that has been through the Whole30 experience twice! I am pleased to partner up with Whole30 and support you on your journey with our flavorful Latin inspired seasonings. 
As a Latin / Puerto Rican, it is really important to me to make sure my healthy meals are as flavorful as my Abuela's (grandmother's) food. These flavors are comfort, and for many of us, our happy place. Some of my best memories with my grandmothers involved food. In a way food represents love in our culture. And I wanted to bring this love to the World through Healthy Rican. A line of seasonings which include traditional Latin / Puerto Rican favorites like adobo, sazón, and sofrito seasonings.
Partnering up with Whole30 is a great opportunity for Healthy Rican to honor a big part of our mission, which is to show how eating healthy doesn't mean bland and deprived. I truly believe that following our heart, our gut, and our wisdom is the key to well-being. Nutrition is a tool to guide us during this process, and that is exactly what Whole30 can do. 
The Whole30 program is a 30 day reset designed to help you change your health, habits, and relationship with food. It's a  program that encourages you to cut out alcohol, sugar, grains, legumes, dairy, and additives from your diet for 30 days. After 30 days, you slowly reintroduce some foods while monitoring the effects they have on your body. To find out more or see if this program is right for you, you can visit whole30.com
Learn more about Healthy Rican's signature seasonings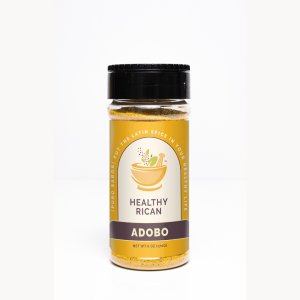 Adobo: The word adobo comes from the Spanish word "Adobar" which means marinade. The practice of marinating meat in a flavorful mixture made from salt, pepper, garlic, and other herbs and spices. Healthy Rican's Adobo is a healthy version of one of the most popular staple seasonings in Latin cuisine. Made with mineral pink Himalayan salt with a blend of garlic, pepper, oregano, coriander, and turmeric for its healthy anti-inflammatory benefits.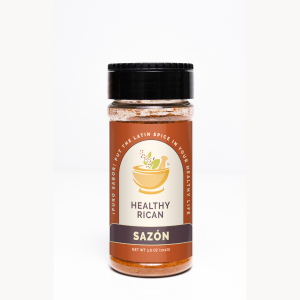 Sazón: The word sazón is the Spanish word for flavor and/or seasoning. Healthy Rican's Sazón blend is completely salt-free, made with all natural spices like; annatto aka achiote, turmeric, garlic, with a hint of cumin and coriander, that will bring out a nice yellow-orange color with a hint of Latin flavor in your foods. Sazón has been used in traditional Latin foods for decades, and most can't cook without it.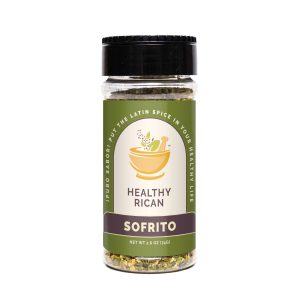 Sofrito: The word sofrito comes from the Spanish word "sofrier" which means to stir-fry. It is a blend of various vegetables and herbs used in Latin cuisine, especially in Caribbean islands like Puerto Rico and the Dominican Republic. Recipes vary from place to place but primarily consist of onions, garlic, cilantro, culantro, a variety of peppers, and sometimes tomatoes. It is mainly used to add a delicious flavor to rice, beans, meats, soups, and stews. Our signature blend of dehydrated Sofrito is salt-free and can be used to as a dry rub to marinate meats or rehydrated in water and used as a replacement to fresh sofrito.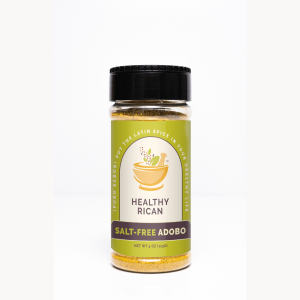 Salt-Free Adobo: With Healthy Rican's salt-free version of adobo, you can get all the delicious flavors of adobo minus the salt. It can be used to marinate meats, added in rice, beans, and stews to enhance the flavor of your foods.
Use coupon code: Whole30 to get a 15% off your 1st order!
The Puerto Rican trifecta!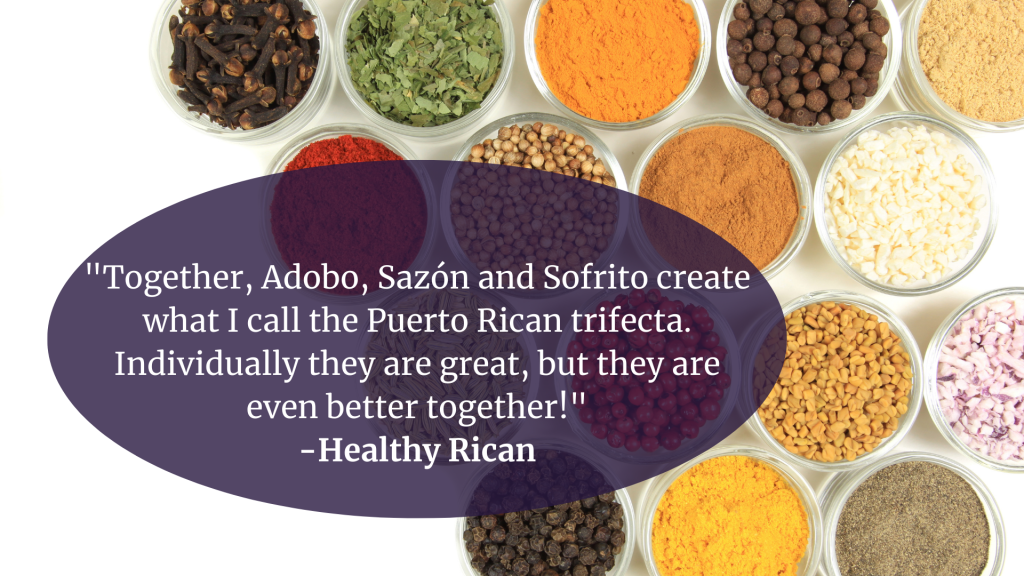 The secret to Puerto Rican cooking (and many other Latin cultures) comes from various spices and herbs like culantro aka recao (the stronger tasting cilantro cousin), cilantro, oregano, and other vegetables native to the Caribbean islands and Latin America. Vegetables like garlic, onions, and peppers are a staple in most Latin cuisine. 
The primary spice blends are Adobo and Sazón. That with the addition of Sofrito, the base in almost all the recipes. Together these create the traditional flavors found in most Puerto Rican foods. I call it the Puerto Rican trifecta!
Read more here: 
https://healthyrican.com/discover-the-secret-ingredients-in-puerto-rican-cooking-recipe-asopao-de-gandules/
If you'd like to learn more on how to use sofrito, here's a link to one of our blog posts:
https://healthyrican.com/7-ways-to-use-sofrito-recipe-habichuelas-guisadas/
Here's a recipe that can help you get started using 
Cauliflower "Arroz con Pollo"
Ingredients: 
1 lbs cooked pulled chicken

1-2 tbsp avocado oil

2 tbsp Healthy Rican Sofrito (hydrated in ¼ cup water)

2 tsp Healthy Rican Sazón

2 tsp Healthy Rican Adobo

Optional: olives, diced red peppers, and onions.

2 tbsp plain tomato sauce

2 lbs cauliflower rice

Salt and pepper to taste
Directions: 
For the chicken, boil 2-3 chicken breasts for approximately 10 minutes or until pink is gone. Let cool and pull the chicken in threads using 2 forks.

In a separate pot, on high heat, add the avocado oil and sofrito until the sofrito sizzles and releases the aroma.

Quickly mix in the sazón, adobo, and tomato sauce. At this moment you can also add any olives, onions, peppers, or any extra ingredients you'd like to add.

Add the chicken, mix well with all the ingredients until the chicken absorbs the color and flavor.

Add the cauliflower, salt and pepper to taste, and mix well.

Lower the temperature to the lowest setting and cover.

Do not add water. The cauliflower will release juices as it cooks.

Cook on low for approximately 10-15 minutes, mixing in between to make sure it doesn't stick to the bottom.
NOTE: Test taste the flavors to make sure they are to your liking. Everyone makes food in different ways. 

NOW LET'S CELEBRATE!
In celebration of this wonderful partnership we created a free cookbook inspired by my personal journey with Whole30. The cookbook has ideas for Breakfast and Lunch. It also contains full recipes for Dinner and all follow the Whole30 guidelines.  
Here's what's inside…
The 7 Day Meal Experience includes recipes like…
Costillas Asadas con Yuca al Ajillo "BBQ Ribs with Garlic Cassava Roots"
Spaguetti (squash) con Pollo "Chicken with Spaghetti Squash"
Pollo a la plancha con platano maduro "Grilled chicken with ripe plantains"
Pastelón con ensalada y aguacate "Plantain lasagna with salad and avocado"
Churrasco con chimichurri con tostones y ensalada "Steak with chimichurri, plantains and salad"
Mofongo con camarones y ensalada "Shrimp with mashed plantains"
Plus… Mayo-Ketchup & Healthy Rican Salad Dressing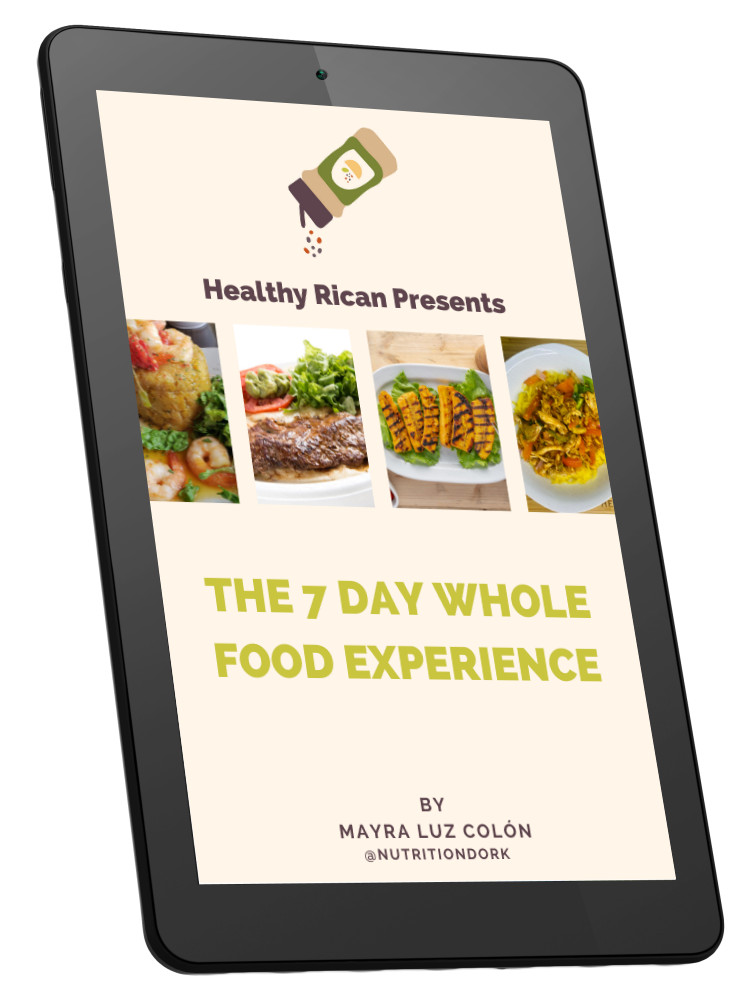 Download our FREE digital recipe book!
It's my 7 day meal plan based on my Whole30 experience as a Latina Holistic Health & Nutrition Coach (aka Nutrition Dork)
Thank you for reading our blog, and following our Healthy Rican journey. The support is very much appreciated. 🙂
Wishing you much love, health and happiness,
Mayra